February 20, 2017 10:26 am
Leave your thoughts

<>
Dear Readers,
Remarkable Breakthrough in Embedded System Design:Wearable Body Vitals Monitoring Systems- A Precursor to our own private doctor!
Don't we often drown ourselves under our workload so much so, that we end up forgetting things of utter importance and are like, "oh! forgot to take my medicine again " or " crap! why can't I remember my doctor's appointment ever". Accept it people,we totally do this and there's no escaping it. So wouldn't it be great if we could carry our own little personal doctor with us,who monitors our body vitals and prompts us to take our medicines on time ?
Happy times ahead then, 'cause this is not a faraway dream anymore. Things have already started to materialize thanks to the latest breakthroughs in embedded system technologies. As healthcare ambience becomes connected; safe and secure medical devices and networks are something one can't do without. Harnessing the utility of embedded systems is emerging as the most important element in the healthcare technologies. Intelligent systems such as healthcare imaging systems, multi-sensor health monitors, electronic record maintainers ,bio sensors are the fields where innovations can bring about game changing breakthroughs.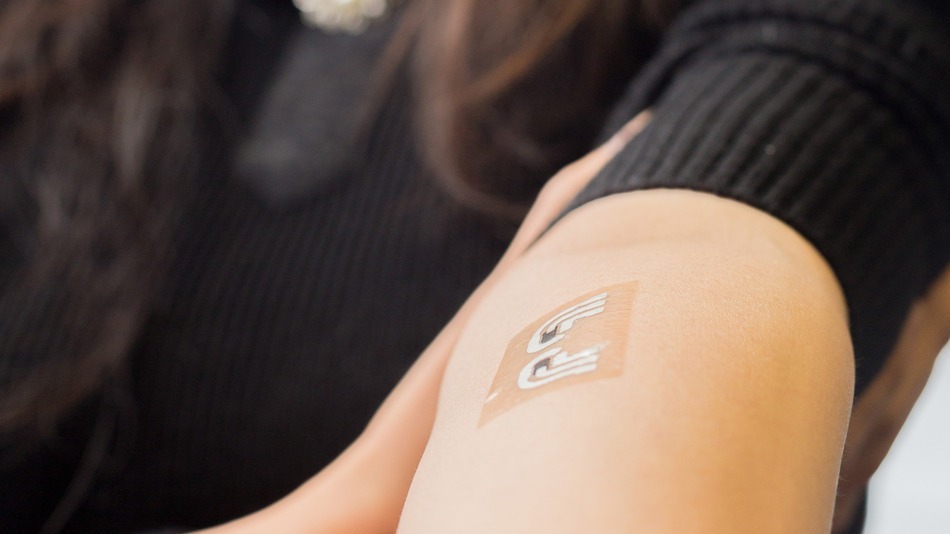 The underlying concern for embedded system designing with respect to body vital signal monitoring is to pay attention to the constraining factors such as size, power consumption,weight, information security and reliability . The main aim is to be able to keep close tabs on vitals of a person in his day-to-day routine,whether moving or not. Body-worn systems will help the medical field by maintaining regularly collected patient details.
Self contained lab-on-a-chip systems are in vogue to researchers these days. By making testing and diagnosis faster, along with cheap and easy accessibility,these can be very advantageous. A system-on-chip (SOC), that integrates a temperature sensor and pH, for remote monitoring applications, includes a data encoder, generic sensor interface ,micro controller, frequency-shift keying RF transmitter and an ADC. For biochemical detection of health variables like glucose and blood gas concentration a low-cost disposable plastic lab-on-a-chip device is also being developed. Such a biochip contains array of integrated biosensors for detecting multiple parameters.
In order to monitor fundamental health issues,wearable systems comprises mainly of :
1.] For collection of physiological & movement data – embedded hardware system.
2.] To relay data to a remote sensor – embedded communication hardware and software.
3.] To extract clinically relevant information – data analysis techniques.
Recent improvements in embedded based telecommunication systems, data analysis, sensor technologies and microelectronics have enabled the development and disposition of weavable systems and they no longer remain a part of some science fiction (sic).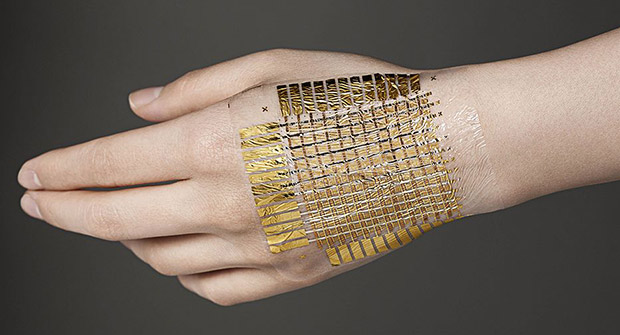 Skin attached patch of embedded -bio sensor.
Moreover, progress in material sciences have enabled the creation of e-textile based systems, imbibing sensing capability into garments. The figure below shows how sensors can be embedded in a garment to collect data by entwining electrodes into the fabric and to put together movement data by printing conducting elastomer-based equipments on the fabric and then sensing changes in the resistance associated with stretching of the garment due to subject's bodily movements. The thought of being able to print an entire circuit board on fabric seems very promising.
Innovations achieved in the above-mentioned projects could be used to design robust systems for home health monitoring to be deployed to detect emergency events such as accidental seizures, fires, falls, etc.
In lieu of the wide range of sensing and actuating processess in a body areas of prime importance are:
1. Astute recognition of the micro-systems with highest practical interests.
2. For the devised implantable sensors, developing bio-energy harvesting systems.
3. Feasibility and sustainability investigation of the implantable sensors.
4. Realisation of an entire wearable body vital monitor, complete with demonstration and integration into the wearable specific hub platform.
Furthermore, eliminating the bulky wiring and electrodes used in current monitors, would make the devices more comfortable and appealing to people of all ages. The embedded electronic researchers are already trying to fix sensors onto films thinner than human hair diameter which is placed on a polyester backing like those used for the temporary tattoos,a hit with children.
The monitor appears like a bandage,though it contains an antenna that could be used to transmit and receive data. A small coil that can be powered by induction as we place it near an electrical coil sums up the current design pattern. For long term usage , a storage capacitor or a tiny battery can be included in the design. Usualy the design relies on a weak force that causes molecules and surfaces to bind together without interfering with motion, but can be coated with skin friendly adhesive for regular use.
Clearly, these advancements in embedded electronics projects and researches are in the process of changing our lifestyles entirely and for good. After all, who doesn't want to keep a watch on his/her body functioning. So gear up embedded electronics engineers and enthusiasts ! Your talent can prove to be a compete turnaround in achieving success in the research and development of these projects. Brush up your skills and keep your innovative mind running.
Stay tuned to this space for more !
Author:
Harsha Thakur
Technical Content Writer-Trainee at Xinoe systems
References:
1. Wearable and Implantable Wireless Sensor Network Solutions for Healthcare Monitoring: by Ashraf Darwish and Aboul Ella Hassanien
2. A review of wearable sensors and systems with application in rehabilitation : by Shyamal Patel, Hyung Park, Paolo Bonato, Leighton Chan and Mary Rodgers
Categorised in: Embedded Systems Development, Embedded Systems Training, Embedded Training, Industrial IOT Training, IOT Training
This post was written by admin