June 13, 2016 10:16 am
Leave your thoughts

<>
Dear Readers,
With the summer catching up fast, you must be prepared to fight off this heat with proper sun blocks, cotton fabric attire and lots of fluid intake. But wait! what about those summer plans regarding your career that needs a boost too. Many undergrads or young professionals from the electronics field of study are unaware of the opportunities that exist in the domain of embedded system and VLSI design. It's important that one understands clearly the difference between Embedded system and VLSI technology. Comprehending this with a broader perspective would definitely save you from the dreaded question about which specialized field to base your career in. Might look difficult to start with but it's not that hard to acknowledge your technical interests.
Embedded system is used to define any computing platform that performs a dedicated or specialized task. Unlike a general purpose PC that can perform a multitude of tasks and is a combination of many complex modules, an embedded system is quite simple in design and application and does not have needless hardwares attached to it. ATMs, washing machines, calculators, microwaves, routers and cell phones are some of the most commonplace examples of devices that have embedded systems in them. The computations required for the design of any embedded system is subject to many physical constraints including safety, timing, functional and time-driven, that in a way also decide their behaviour.

On the contrary, VLSI, an acronym for Very Large Scale Integration, furnishes the information about design complexity of any integrated circuit by providing an idea of the number of transistors used within any circuit. VLSI, is hence the process of creating integrated circuits by combining thousands of transistors into a single chip. VLSI technology started in the 1970s era when semiconductors and its revolutionizing role in communication technologies had just begun getting developed. Packing more and more logic devices into smaller area of action on a board is what it basically does.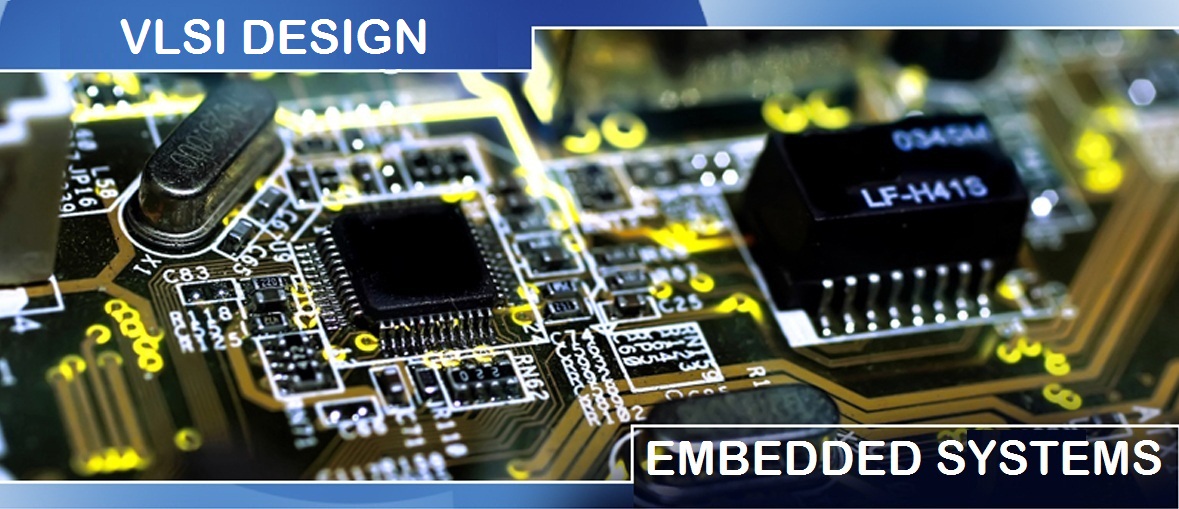 In a nutshell, one can say that VLSI is a manufacturing technique used in the development of entire embedded system setups. While VLSI design deals with development of a chip, providing a measure of complexity in terms of the number of transistors mounted on a single chip, Embedded system design comprises of ways to incorporate the chips to produce an efficiently working system dedicated to perform a pre-defined duty. A major section of integrated circuits used in regular embedded systems and general purpose computers are derived using VLSI techniques.

VLSI comes across as a base-level niche field that has fuelled up a lot many frontiers for further the growth of this industry. VLSI technology has opened up vast avenues for career growth in design analysis, design implementation, computer-aided designing, verification, simulation and testing. The tremendous scope of this sector makes it a much sought after career option for professionals or students devoted to the electronics field.

The dawn of 1960's saw the development of embedded systems and since then it has expanded exponentially in terms of widespread functionality. At present many Indian companies deal in high level software designs and sometimes board level designs as well. However, due to lack of expertise and quality resources, not much has been done as far as application and customized product development is concerned. Growing and leveraging in these streams can help one create innovative opportunities and flourish in her/his career.

With the idea of fabrication laboratories of Fab Labs catching up fast in the Indian electronic industry,the career opportunities are plenty in this regard. One only needs to judge his / her true area of interest and act accordingly to improvise upon the skills required to excel professionally, whether the concerned area be VLSI or Embedded.

Tune into this space for more! Till then happy training .

Author:
Harsha Thakur
Technical Content Writer

Tags: embedded, embedded systems training, VLSI, vlsi and embedded, vlsi design, vlsi design course, vlsi technology


Categorised in: Embedded Systems Training

This post was written by admin